Schedule
Two full days of workshops taught by top international teachers.
Workshops/Levels
All workshops will be taught by top international Balboa teachers.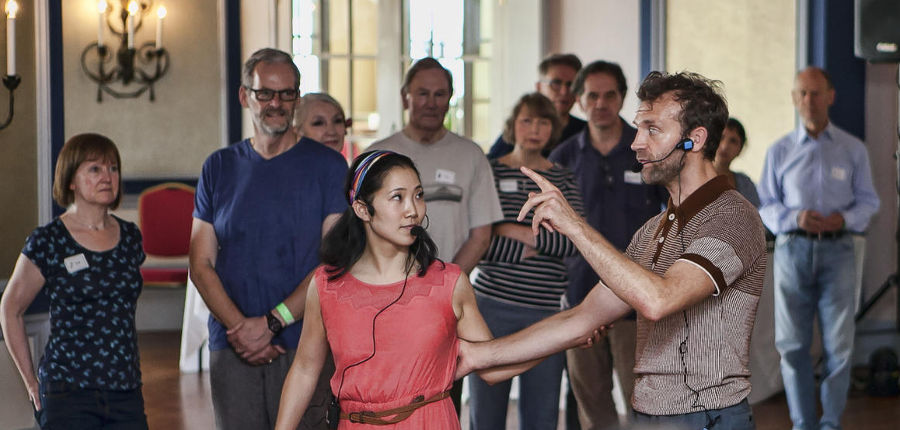 You will need to have danced Balboa regularly for at least 2 years, and be able to confidently lead/follow a wide range of moves on the social dance floor, including throw outs from many different positions, out and ins, lollies, swivels, Texas Tommy. You should be comfortable social dancing to a range of tempos, adding spice with your own variations....
Workshop Timings (Provisional)
Friday
| | |
| --- | --- |
| 14:00 - | Registration |
| 18:30 - 20:00 | Evening Meal |
| 20:30 - 00:00 | Dance with teacher introductions |
Saturday
| | |
| --- | --- |
| 07:30 - 09:30 | Breakfast |
| 10:30 - 11:30 | Workshop |
| 11:45 - 12:45 | Workshop |
| 12:45 - 14:15 | Lunch |
| 14:15 - 15:15 | Workshop |
| 15:30 - 16:30 | Workshop |
| 18:30 - 20:00 | Evening Meal |
| 20:30 - 00:00 | Evening Dance with teacher demos at 21:30 |
Sunday
| | |
| --- | --- |
| 07:30 - 09:30 | Breakfast |
| 10:30 - 11:30 | Workshop |
| 11:45 - 12:45 | Workshop |
| 12:45 - 14:15 | Lunch |
| 14:15 - 15:15 | Workshop |
| 15:30 - 16:30 | Workshop |
| 16:30 - 18:00 | Tea Dance |